The May 2022 Health Days Calendar includes content for Women's Health Week, Stroke Month, Nurses Week & these important days…
Here are the important May health awareness days Baldwin Publishing includes in our "Celebrate Today!" Health Days Calendar. Recognize these health observances on your blog, newsletter, website and social media to drive online traffic in Spring 2022. Baldwin writes topical articles for every health observance day, ready to customize for your hospital or health organization.
May 2022 Health Days Calendar
If you suspect someone is having a stroke, your actions can make the difference between life or death. This month, Baldwin Publishing's article lists the signs of a stroke and what you should do (or not do) if you think someone is having one.
Living with arthritis can affect your quality of life. Baldwin Publishing's feature article for Arthritis Month lists five things that people should avoid doing to reduce pain from arthritis.
As important as it is to sleep well, there are popular sleep remedies that may not be the best choices. Baldwin Publishing's article for Better Sleep Month outlines the remedies you may want to skip when you're trying to sleep better.
A crispy, delicious salad makes for the perfect Spring meal! Share healthy recipes like this Grilled Romaine and Tomato Salad from the Health eCooking® library.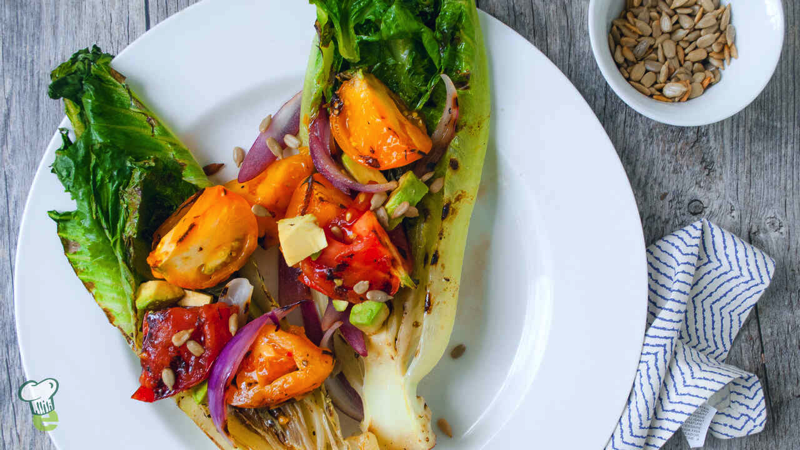 For Mental Health Month, Baldwin Publishing's writers list six important factors that play a role in mental health and how to best recognize the symptoms of mental illness.
High Blood Pressure Education Month
When you think of people who have high blood pressure, do you think of older adults? People who don't take care of their health? Or stressed out people? Baldwin Publishing's content for High Blood Pressure Education Month clears up myths about high blood pressure and the importance of regular check-ups.
Asthma and Allergy Education Month
Have you ever heard of allergic asthma? Of the 25 million people with asthma in the U.S., about 60% have asthma caused by allergies. Baldwin Publishing has content in May that answers common questions people have about the connection between asthma and allergies.
If you are following a gluten-free diet, either by necessity or choice, there are certain foods you know you have to avoid. These include foods made from wheat, barley and rye. For Celiac Awareness Month, Baldwin Publishing has an important article that highlights foods containing gluten that most people are unaware of.
Employee Health and Fitness Month
With so many people now working sedentary jobs, it's more important than ever to share tips for keeping the body healthier by moving and stretching throughout the day. Baldwin Publishing has seven tips for desk-bound employees to work movement into the workday.
Lyme Disease Awareness Month
Approximately 300,000 people get Lyme disease each year, with the greatest risk occurring in the New England, mid-Atlantic and upper Midwest areas of the United States. Baldwin Publishing has seven important tips to help reduce your risk of getting Lyme disease as the weather gets warmer and you spend more time outdoors.
Whether you are trying to prevent osteoporosis or you already have the condition, exercise is one of the best ways to keep bones strong and healthy. For May, Baldwin Publishing has an article that includes low, medium and high impact exercises to increase bone strength and help improve balance, flexibility, mobility and coordination.
Better Hearing and Speech Month
Hearing loss is a common consequence of aging. Called the "invisible handicap," many people don't recognize early stages of the condition and show no outward signs of difficulty. Baldwin Publishing's article on hearing loss describes warning signs of the condition, as well as the importance of having hearing tested.
(May 9 – 13) Women's Health Week
Do you know what the most prevalent health risks facing women are in 2022? For Women's Health Week, Baldwin Publishing shares common illnesses that affect women and provides steps for how to lower risk.
Working conditions have always been challenging for nurses. But when you add the stressors brought on by the COVID-19 pandemic, the job goes from tough to overwhelming. Baldwin Publishing offers six actionable steps nurses can take to boost emotional and physical wellbeing.
(May 9 – 13) Hospital Week
Going to the hospital, whether to the ER or for a prolonged stay, can be a daunting experience. To help alleviate the stress, Baldwin Publishing has compiled a list of items to bring with you when you go to the hospital. Share it on your blog and social media during Hospital Week.
May 20 – Bike to Work Day
As spring approaches, more people will be tuning up their bikes. Riding a bike is a healthy, eco-friendly way to exercise. For Bike to Work Day, Baldwin Publishing has an article discussing the health benefits of cycling and suggestions for using it as a way to commute to work.