Consumer health content licensing solutions designed to encourage healthy living and build your brand
Our licensed health content increases engagement and drives healthy outcomes.
Fresh and engaging health content encourages consumers to live a healthy life while also improving the health of your brand.
Baldwin Publishing, a health content licensing company, has been delivering informative and engaging consumer health content for 25 years. Our professionally-developed content is medically reviewed and adheres to health industry standards. We can custom-curate health content packages or choose our popular social media content package filled with relevant content for health observance days to post every day of the year.
Baldwin's health content licensing is a cost-effective alternative to developing custom health content.
DIGITAL WELLNESS CONTENT
Our health and wellness content for websites, blogs, social media and apps is designed to encourage healthy behaviors and engage consumers.
Articles, videos, infographics, quizzes and photos
Based on current research and health trends
Medically reviewed
Easy to read, interactive and informative
SOCIAL MEDIA HEALTH CONTENT
Our most popular digital content packages feature a robust tool that puts timely content at your fingertips to post to social media.
Consumer health content for awareness days and events
Content to post to social sites nearly every day of the year
Includes calendar so you know when to post
Easy to share with the click of a button
HEALTH NEWSLETTERS
Print and digital health newsletters expand your reach and improve communication with your audience.
Customized for your targeted audience
Include high-value consumer health content
We handle all print newsletter details, from planning to distribution
Turn-key enewsletters drive traffic to your website
HEALTH & WELLNESS GUIDES
Engaging guides are customized with content that resonates with specific audiences.
Digital wellness guides are effective lead generators and drive users to take action
Print health handbooks and brochures are great takeaways
Consumer-friendly and easy to read
Customized for your brand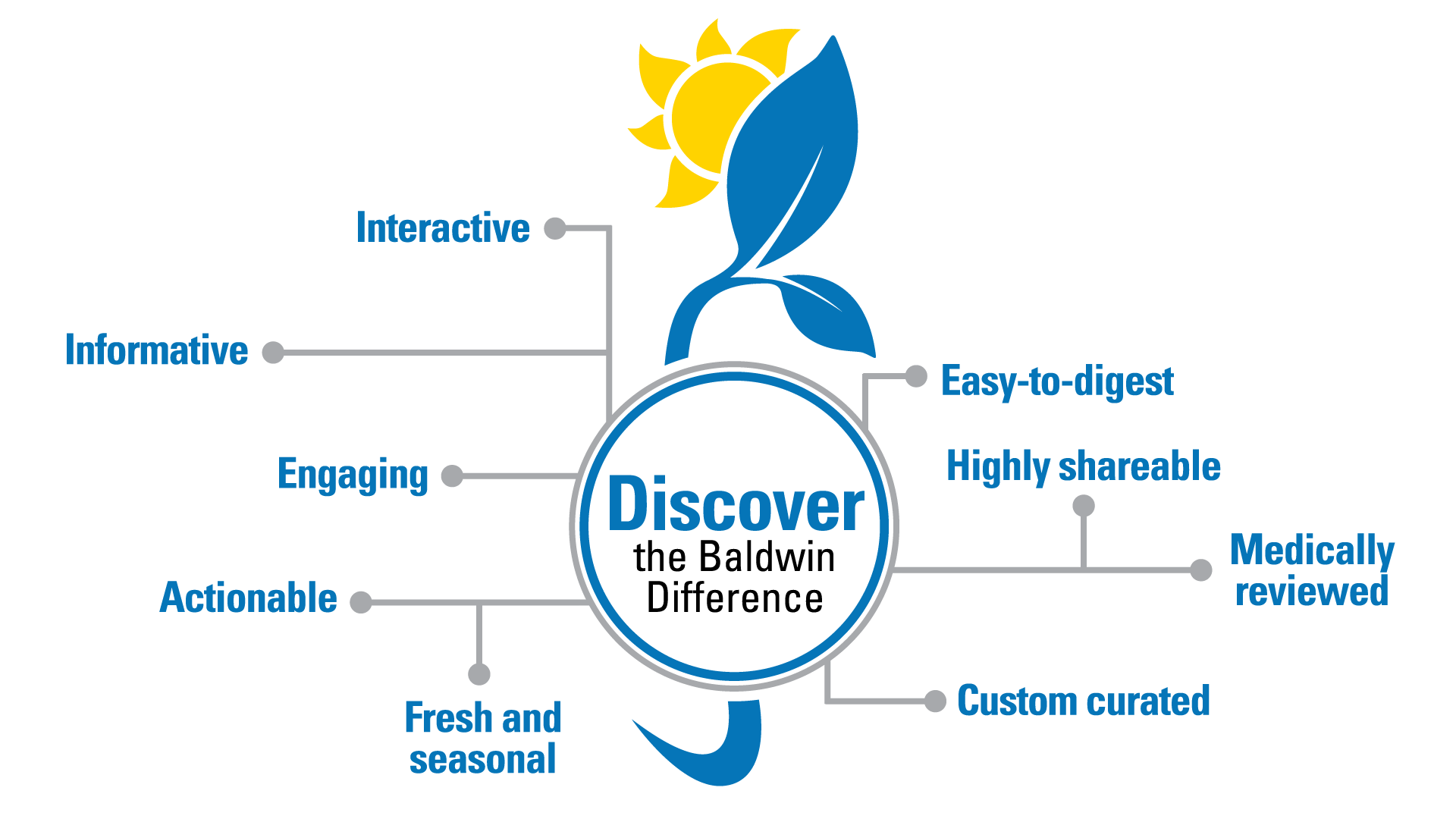 Our consumer health and wellness articles are a cut above the rest.
Consumer Health & Wellness Topics
To learn more about Baldwin's healthy recipes and wellness content or to schedule a product demo, give us a call at 800-705-6522 or complete the form below.