Baldwin Publishing's custom printable calendars recognize 12 months of health observances and holidays. These 2022 calendars can be branded for health organizations and distributed across your organization.
Baldwin Publishing's 2022 printable calendar is filled with hundreds of health observances and recognition days. It is a great hospital giveaway to connect with employees and thank them for their hard work throughout the year.
Baldwin Publishing's health observance calendar is filled with colorful, seasonal images that employees will proudly display on desks and bulletin boards. Distribute these calendars in print or digital format to your staff in December or January as "thank you" gifts!
Baldwin Publishing has created calendars for health awareness days for nearly 30 years, and the 2022 employee health calendar is one of our best.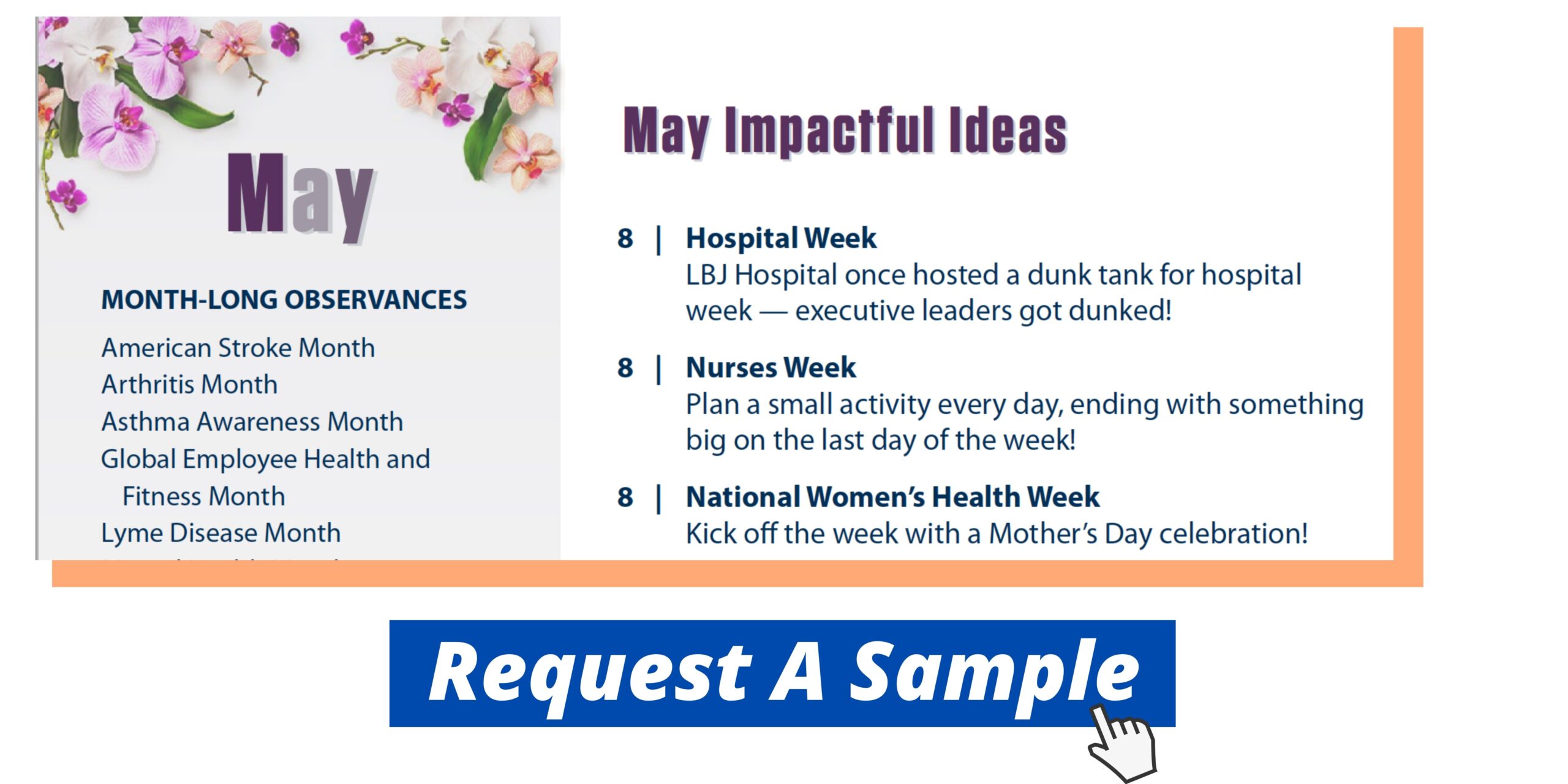 This practical, timely resource projects 12 months of health observance days. It can help hospitals plan community health events, employee communications, and social media campaigns. Each month includes important health observances and recognition days such as American Heart Month, Cancer Survivors Day, and World Mental Health Day.
And for human resource directors, the health awareness calendar will be a great help planning 2022 special events for employee recognition dates, such as National Doctor's Day, Health Unit Coordinators Day, and Third Shift Workers Day.
This custom printable calendar features impactful ideas to encourage team inclusion and celebrations throughout the year. There are team building ideas for celebrating National Gratitude Month, Employee Appreciation Day, Diversity Month, and Customer Service Week, among others.
This health observance calendar can be customized with your organization's logo and brand colors. The cover page can be designed with customized images for your health brand. The last page of the calendar includes a 12-month calendar for 2023.
If you are looking for the perfect gift for your employees to start 2022 on the right foot, consider Baldwin Publishing's custom printable calendar of health observances and recognition days.
Contact Baldwin Publishing to get your calendar ordered today!