Your search for healthy recipes just got easier. The Health eCooks recipe website shows you how to make all your favorite foods deliciously healthy.
Do you find yourself scouring the internet to find healthy recipes? If you said yes, you are not alone. With an innumerable assortment of recipe websites and food blogs filling up your feeds, it can be difficult to determine which recipes are truly healthy. The Health eCooks recipe website takes the guesswork out of the equation and provides recipes that are not only healthy, but taste great, too!
What is Health eCooks?
Health eCooks is a direct-to-consumer website offering more than a thousand certified healthy recipes with you and your health in mind. The team behind Health eCooks includes professional chefs, registered dietitians, and food editors who have been developing and curating deliciously healthy recipes and how-to-cook videos for nearly three decades. During that time, they have published nearly half a million cookbooks for national medical brands you trust. This innovative healthy recipe website aims to inspire you to cook, eat, and live better.
Chef-Tested Recipes: Every recipe on the Health eCooks website has been tested (and most importantly…tasted!) by professional chefs in our in-house test kitchen to ensure quality taste and ease of replication.
Dietitian-Reviewed Recipes: All of our recipes have been reviewed by registered dietitians and carry their stamps of approval, ensuring they adhere to rigorous health and medical standards.
What's so special about the Health eCooks website?
The Health eCooks™ recipe website launched this month with three healthy specialized diets: heart healthy, gluten free and healthy kids. All recipes feature:
Nutrition facts and portion sizes reviewed by registered dietitians
Calculated prep times to help you plan healthy meals around a busy schedule
Easy step-by-step instructions tested by professional chefs
Fresh ingredients to ensure the finest taste quality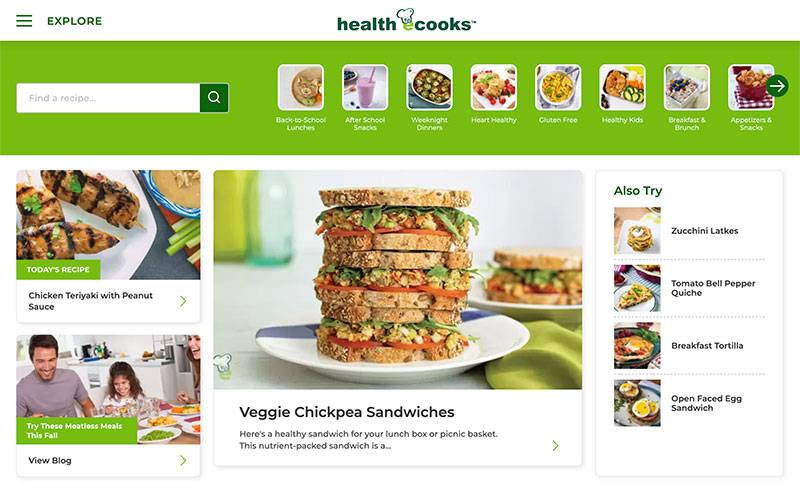 Whether you need recipes to a follow a heart healthy or gluten free diet, or you are looking for fun but healthy recipes for your kids, Health eCooks is your online recipe resource.
Heart Healthy Recipes: We strive to develop recipes that will not only keep your taste buds happy, but that will keep your ticker happy, too. The heart healthy recipes in our portfolio are designed to reflect the guidelines established by the American Heart Association®. Each recipe contains less than 600mg sodium and/or 6g saturated fat per serving. Now that's how to live with a full and thankful heart!
Gluten Free Recipes: There's often a misconception that gluten free recipes are also flavor free. But that's not the case with Health eCooks recipes! The gluten free recipes on the Health eCooks recipe website have been formulated and reviewed by registered dietitians to taste great while also ensuring they are free of any ingredient that may contain gluten, including wheat, rye, and barley; a derivative or crossbred hybrid of these grains; or brewers' yeast or malt.
Healthy Kids Recipes: The kid friendly recipes on the Health eCooks recipe website make it easy to cook delicious healthy food for the whole family. These recipes were created with kids in mind to be easy-to-make, tasty, nutritious, and fun to eat. You can feel good knowing they contain less calories, fat, and sodium than what you would get at fast food or commercial restaurants. So whether you have kids, or you're still a kid at heart, it will be fun to eat healthfully!
This is just the beginning for Health eCooks
As our hungry and healthy community grows, so too will Health eCooks™ recipe website's content. Our team of chefs, dietitians, and food editors is continuously developing new and exciting healthy variations of your favorite foods. In addition, as our online presence broadens, we will be catering to even more dietary needs. Stay hungry because more courses will soon be served!
To discover and try all of Health eCooks' easy and delicious recipes, check out our recipe website by clicking here.