Hospitals use daily "Snippets" social media posts to increase followers and engage their communities.
Social media posts are an important marketing tool for health organizations, but creating content is time consuming. Some large health systems have more than a dozen team members managing their social media campaigns, but most health organizations struggle to find time or team members to create enough social media posts to keep their pages fresh and relevant.
That's why Baldwin Publishing created a ready-to-use solution for any health organization in need of engaging social media content. It's called Social Media Snippets.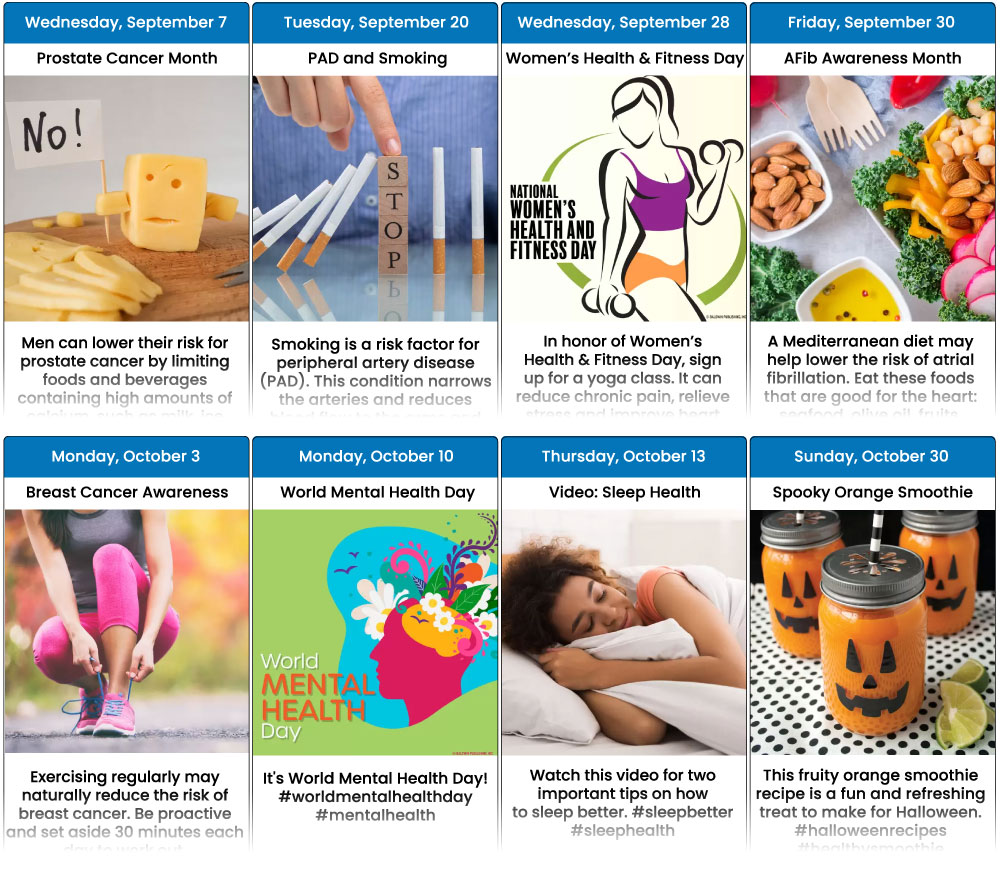 What are Social Media Snippets?
Our Social Media Snippets package is an out-of-the-box content product that makes posting to social media a piece of cake! It's also easy to customize for your brand. The package includes:
25 social media posts per month
Fun and factual 280-character health tips
Compelling images and graphics
Entertaining 20-second health videos
Easy and healthy recipes from Baldwin's Health eCooking® library
Each month, we create 25 social media posts you can post instantly to your social media pages. The snippets include a combination of health tips, healthy recipes, holiday graphics and short videos. Each snippet also includes an image sized appropriately for social media platforms like Facebook, Twitter, Instagram and LinkedIn, as well as popular hashtags.
Most social media snippets are tied to health awareness months and observances, such as Breast Cancer Awareness Month, Mental Health Awareness Month, American Heart Month, Cholesterol Education Month, Minority Health Month and Diabetes Awareness Month.
We also include content highlighting important health days, such as National Mammography Day, Women's Health and Fitness Day, World Mental Health Day and The Great American Smokeout, plus many others.
When you want to acknowledge holidays and seasonal events, we've got that covered, too! The Social Media Snippets package includes colorful social graphics for celebrations like Valentine's Day, the First Day of Spring, Mother's Day, Juneteenth, Labor Day, Halloween and Thanksgiving.
Using Social Media Posts Easily and Effectively
Posting regularly with valuable content and engaging social graphics is key to growing your social media audience and increasing brand recognition. The more often you post, the more often you appear on social media feeds.
We've taken the headache out of filling your social channels with engaging social media posts. Our ready-to-post snippets are sized for multiple social platforms so you can use them anywhere. The white-label graphics can easily be branded for your organization just by adding your logo. The content is delivered with a lead time that makes it easy to schedule social media posts in advance.
Download. Customize. Post. It really is that easy!
To learn more about Baldwin Publishing's social media posts, as well as other digital health and wellness products, click here.